1936 Cadillac V8 Restoration
The stunning and bold design cues of Cadillacs from the 1930s are why these classic Cadillacs remain quite popular and maintain high values. The Cadillac Parts & Restoration team takes great pride in this completed 1936 Cadillac V8 restoration.
This pristine vehicle is a winner of national first-place awards at the prestigious Antique Automobile Club of America's Fall Hershey and the Cadillac & LaSalle Club's Grand National events. This is one of two Cadillacs that we've restored for the owner of this car. The other being a 1940 Cadillac.
A.A.C.A. First Place – Junior
A.A.C.A. First Place – Senior
Cadillac & LaSalle Club  Senior Award – First Place
Hemmings Stratton Car Show – Best in Show
As a testimonial to our work, the vehicle's owner offered this ringing endorsement:
"I have been associated with Cadillac Parts and Restoration since 2000 when they were known as FEN. They have restored two antique Cadillacs for me (a 1936 coupe and a 1940 convertible) and done extraordinarily fine work from plating to painting to upholstery. I appreciate the way they have always worked within my budget and schedule to produce excellent results—my 1936 Cadillac coupe has won multiple national-level awards and is still being shown. Above all, they are wonderful people to work with!"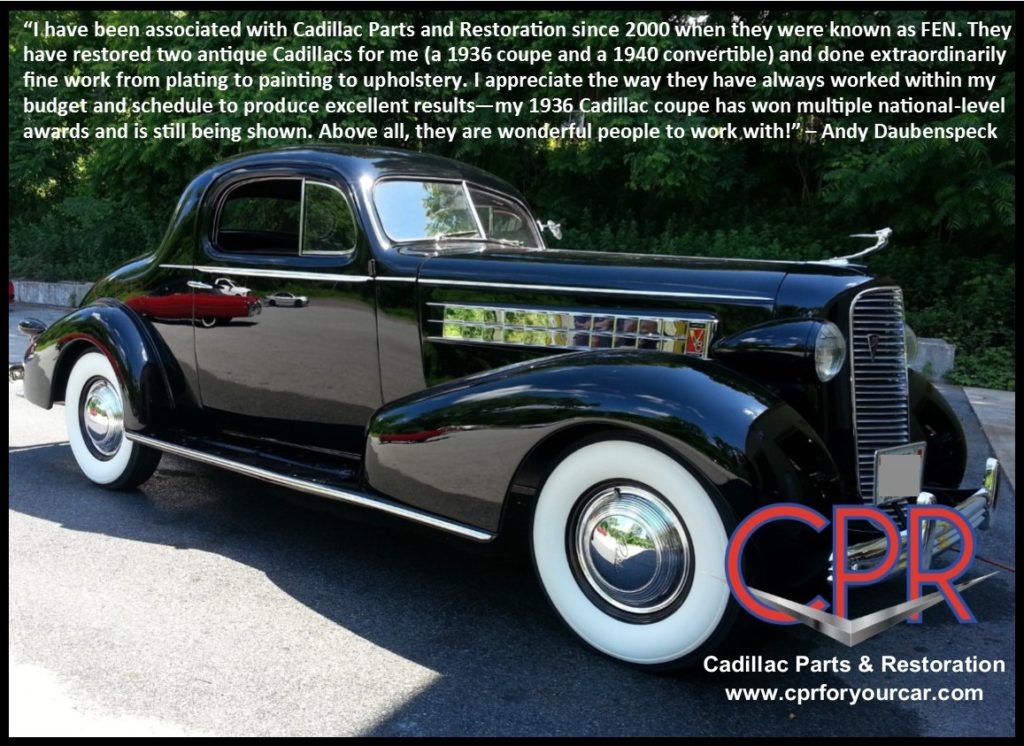 Cadillac Parts & Restoration is located in New York State's historic Hudson Valley and our Poughkeepsie location is conveniently located for those in New York City and points south as well as New England and points north. See more of our award-winning Cadillac restoration projects.
Give us a call to learn more about our restoration services. We've had the same phone number for almost thirty years and can be reached at (845) 462-5959. We'd be happy to learn more about you, your car and your aspirations for your classic Cadillac.