1959 Cadillac Restoration
1959 Cadillac Restoration Experts
Perhaps the most iconic model year for classic Cadillacs was 1959. Breathtaking design, including the famous towering tail fins with the bullet-like tail light lenses, signified the peak of the tail fin era. An elaborately detailed front grille along with an ultra-luxurious interior make this one of the most desired collector cars of all time.
This 1959 Cadillac restoration was performed by the CPR team and has won numerous Concours-level shows as well as national first-place awards at the A.A.C.A. Fall Hershey and Cadillac & LaSalle Club Grand National events.
Cadillac & LaSalle Club 2013 Grand National – First Place (Primary)
Cadillac & LaSalle Club 2017 Grand National – Senior award winner
A.A.C.A. First Place – Junior
A.A.C.A. First Place – Senior
Hemmings' Concours d'Elegance – Best American Closed Vehicle 1946-60
Fairfield (CT) Concours d'Elegance Judge's Selection award
GoodGuys 2011 East Coast National award
Greenwich (CT) Concours d'Elegance – Most Outstanding Closed Vehicle 1958-60
The owner of this car was quite pleased with the restoration and offered this endorsement of our work: "Elsa Mauer and her staff at CPR are the most professional, honest, and dedicated group of people I have ever run across.  The experience I had in having them restore my fathers 1959 Cadillac was outstanding.  Elsa and her talented group of craftsmen not only restored my Dad's car, they became a part of it!"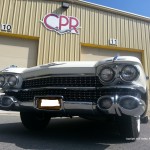 If you're considering a 1959 Cadillac restoration project, full or partial, give us a call. Our extensive experience restoring and sourcing parts, coupled with our attention to detail and authenticity, will have you and those iconic tail fins enjoying many years of cruising in your classic. Learn more about out award-winning Cadillac restoration projects
We can be reached at (845) 462-5959 and our conveniently located Poughkeepsie, NY restoration facility is easily reached by road or rail for those traveling from New York City and points south as well as New England and points north.