Cadillac Interior Restoration & Upholstery
Think back to the last new luxury car you bought and remember your first time sitting in the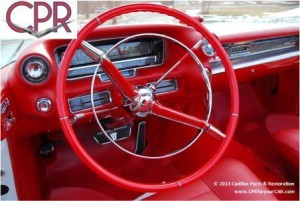 vehicle before driving it off of the dealer's lot. The brand new upholstery and exquisitely designed interior components. It's the interior that puts the luxury into luxury cars and Cadillac, America's premier luxury automobile manufacturer is second to none.
Over the decades of course, fabrics tear and deteriorate, dashes fade and stainless steel loses its luster. While there are many upholstery shops out there, the classic Cadillac interior is particularly difficult to restore.
Dash components are often hard to find, original door panels are elusive and color/grain
matching of leather is crucial, especially so if you're seeking an accurate restoration.
Cadillac Parts & Restoration has thirty years of experience restoring classic Cadillacs to show-quality and our interior work is displayed in some of the world's finest examples of restored Cadillacs. We have the sources to provide that horn ring and we offer the best stainless restoration out there. When it comes to seat covers and door panels, we can match the original color and, just as important, the grain pattern. In fact, before we even begin an interior restoration, we provide a leather sample to the customer for approval.
We'd be happy to discuss your interior restoration with you. Give us a call at (845) 462-5959 or shoot us a message with details, including trim code if you have it.