Cadillac Restoration Services
For twenty-eight years we have provided expert Cadillac restoration services to classic car enthusiasts worldwide. Satisfied customers have shipped their vehicles to our team from almost every continent. Our award-winning and reputation-building efforts have led to our team's world-renowned status. Contact us for a restoration consultation.
Brakes – Suspension – Steering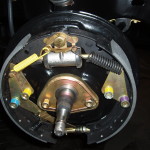 Full rebuilding services on all power brakes units, Bendix, AC Delco, Moraine, Treadle-Vac. We also service the suspension, coil springs and shocks as well as rebuild steering gearboxes & power steering pumps.
Our Cadillac restoration services include the proper rebuilding of the braking, suspension and steering systems.

Full or Partial Cadillac Restoration Services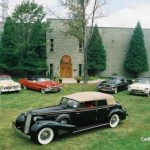 Catering to thousands of customers internationally, CPR is a leader in full and partial restoration of antique Cadillacs, but also providing technical know-how on restoration projects. CPR receives calls from restoration shops and customers from around the world seeking our expert advice for the proper restoration of classic Cadillacs.
Show cars or daily/weekend drivers, our craftsmen have rebuilt hundreds of classic Cadillacs and created many satisfied customers. While we specialize in Cadillac restoration services, through reputation and referrals, we've restored many other makes and models.
For 2014, three of our restorations were entered for judging at the prestigious Cadillac & LaSalle Club Grand National meet and all three took home a First-Place award in their respective category. Contact us and we'll be happy to discuss your restoration needs.

Chrome, Gold & Cadmium Plating and Stainless Steel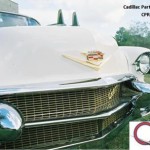 To finish off that complex rebuild, the finest in plating and stainless restoration is provided at CPR. We know how much labor costs are spent in removing and re-installing poor quality bright works only to be sent out time and time again. Bumpers need to be done right the first time. Stainless steel should be installed just once to prevent paint damage and gold plating should never look dull.
Gleaming chrome and gold plated trim draws a lot of attention when cruising down the boulevard. We've provided plated parts on show cars and drivers and our attention to detail is second to none. Your brightworks are in good hands with CPR.
Complete Convertible Top Frame Restoration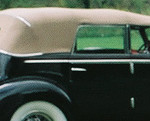 Pistons – motor lines – convertible top latches from 40s through the 70s. Don't let your rotted header bow or haggard looking convertible top framework get you down. We can fabricate your header bow to original and ready-to-install condition. Convertible top framework can be restored using polished stainless steel rivets (sold separately), show-quality chrome plating and painting to showroom condition. Learn more and see examples of our classic Cadillac convertible top repair and replacement services.
Specialized Classic Car Detailing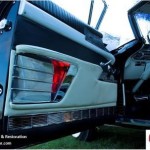 This is the white-glove treatment for your car. Detailing a classic Cadillac is far more extensive a job than ordinary. Our technicians provide careful and detailed attention to all aspects of the vehicle.
The exterior paint, chrome and stainless are all professionally polished and cleaned using specialized products developed for restoration maintenance. Tires and wheels are meticulously cleaned. Convertible or vinyl tops are deep-cleaned using a system developed exclusively by our restoration shop. Interior painted areas are buffed to produce a high shine. Your leather is cleaned and conditioned and cloth upholstery and carpet are cleaned using steam extraction. This is not a job for your neighborhood detail shop. Our professionals know restored Cadillacs – bring your classic car to CPR.
Classic Car Value Analysis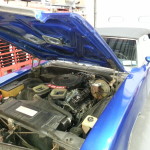 CPR is with you every step of the way. If you are interested in a detailed car analysis, call CPR before any classic car purchase, or before you list your car's value when preparing to sell. Buying a car long-distance, we can photograph, inspect and assess the vehicle in our area and provide the information to you prior to making an investment decision. Call us today and let's talk about your prospective sale or purchase.

Restoration of your Engine Compartment
Perfection under the hood is indeed a pleasure to behold. Whether your car is in our shop for a complete engine rebuild and restoration, or if you would just like the engine compartment restored, it's all available at CPR. We can do as much or as little as you like. Components are removed, restored, and/or rebuilt and re-installed to look like new. The vehicles hardware and hinges are plated as required. The  fender wells, radiator & radiator support  and fan refinished to perfection. We replace all decals, provide new hood pad(s) installed and refinish the firewall.
The under-the-hood details can make or break a restoration and are an essential offering of our Cadillac restoration services. Learn more about our engine compartment restoration.
Classic Cadillac Grille Restoration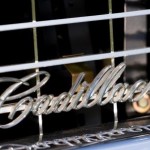 Our attention to detail of chrome grille restoration includes: disassembly; replacement of deteriorated parts. restoration of components and re-assembly. We'll strip any painted areas then prep, refinish and assemble using new hardware. Details matter. Let our experienced professionals restore this crucial component of your classic Cadillac. Learn more about our Cadillac grille restoration.

Interior Expertise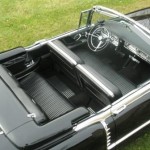 It's a great pleasure newly restored interior. Cadillac Parts and Restoration can provide complete or partial interior restoration to suit the vehicle's condition or an owners budget.
We specialize in Cadillac restoration services and interior work is something we excel in, Our interiors have been in winning cars at all of the nation's top shows. Correct fabrics, full-grain leather, proper colors and attention to detail sets us apart. Learn more about our classic Cadillac interior and upholstery restoration expertise.
Fabrication of Sheet Metal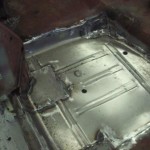 Rotted body panels and floor pans can be a key factor when deciding whether or not to restore a car. Don't let them deter you. Almost every restored Cadillac that leaves our facility has had some degree of sheet metal fabrication performed. We also provide sheet metal replacement panels and floor pans to restoration shops worldwide .
Some degree of rust can be removed and corrected. However, when your sheet metal is beyond repair, the smart choice for your restoration is to go with our replacement panels.
Maintenance of your Classic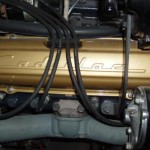 Our classic Cadillac restoration services include a maintenance program that is critical for the long-term enjoyment and preservation of your pride and joy. Yearly vehicle maintenance plans available. Includes Brake Service, Exhaust, Interior and Exterior Detailing and waxing, Tune ups, Oil Change, and new Tires.
Whenever we complete a restoration or repair, we make sure to discuss proper maintenance efforts. Those not able, or not willing, to handle the the important scheduled upkeep of their cars are welcome to bring their vehicle to our facility. Learn more about our classic Cadillac maintenance and repair services.
Cadillac Wheel Restoration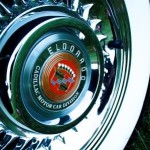 We've all heard the phrase "where the rubber meets the road," well those words ring hollow to Cadillac enthusiasts whose vehicle is riding on wheels in need of repair. Road salt, grime, curbs and potholes do a number on your wheels, particularly when the age of your car is measured in decades. Full wheel restoration is available for Sabre and Gold or Silver Wire Spoke Wheels.
Hemming's Motor News turned to our team when it needed an expert source to educate its readers on the rare Cadillac Sabre wheels. Read their article.
Windshields and Glass
Forty, fifty or sixty years is a long time and no matter how careful you are, keeping your glass intact is near impossible for that length of time. If you need replacement windshields or windows just give us a call. We provide replacement windshields with correct LOF logo and date code. We also supply regulators, motors and channels and side window sweeps 'for vehicles from 1949 thru 1976.

Cadillac Carburetor Rebuilding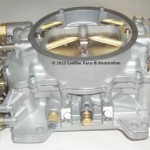 Expert rebuilding of your carburetor can make all of the difference in how well your Cadillac runs. We completely disassemble and rebuild/refinish each component. No detail is spared and your carburetor is returned to you operating, and looking, like new.
For more info visit our Cadillac Carburetor rebuilding page.
World-Renowned Cadillac Restoration Services
We know your classic Cadillac. Each member of our team has decades of experience under his or her belt and tremendous pride is taken in everything that we do. Reach out to "The Cadillac Specialists" at CPR where "setting the standard" is not just a catch phrase.