Our Customers on Cadillac Parts & Restoration (CPR)
For almost three decades we've built quite a reputation and there is nobody better suited to sing our praises than our satisfied customers. Many are return customers for which we've restored several of their cars. Many are also by way of word-of-mouth and referral.
We appreciate all of our customers and are grateful for their patronage and loyalty. We wouldn't have received all of our accolades without their continued support.
Joe Medinosky – 1959 Cadillac Coupe de Ville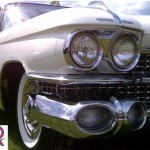 Joe trusted his beloved 1959 Cadillac Coupe de Ville to the Cadillac Parts and Restoration (CPR)  team. The vehicle holds a special place in Joe's heart and sought out the best in the business to restore this classic. Through regular maintenance and proper storage, the vehicle didn't need a frame-off restoration. However, extensive work was performed on the engine, mechanicals, suspension, interior, body and paint. The result, an A.A.C.A. Junior & Senior First Place winner as well as winner of best in category awards at the Hemmings, Greenwich (CT) and Fairfield (CT) Concours d'Elegance shows. You can see more about this classic on our show winners page.
"Elsa Mauer and her staff at CPR are the most professional, honest, and dedicated group of people I have ever run across.  The experience I had in having them restore my fathers 1959 Cadillac was outstanding.  Elsa and her talented group of craftsmen not only restored my Dad's car, they became a part of it!" – Joe Medinowsky
Andy Daubenspeck – 1936 Coupe & 1940 Convertible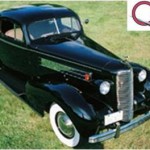 Andy was so completely satisfied with our team's work, he had perform the restoration work on both of his Cadillacs. The work began while we operated under F.E.N. Enterprises and when we formed our new company, Cadillac Parts & Restoration, he stuck with us.
Andy's coupe has won numerous Concours d'Elegance and national awards, including prestigious A.A.C.A. and Cadillac & LaSalle Club titles and continues to wow the crowds wherever it is shown. Read his testimonial below and, we must say, the feeling is mutual.
"I have been associated with Cadillac Parts and Restoration since 2000 when they were known as FEN. They have restored two antique Cadillacs for me (a 1936 coupe and a 1940 convertible) and done extraordinarily fine work from plating to painting to upholstery. I appreciate the way they have always worked within my budget and schedule to produce excellent results—my 1936 Cadillac coupe has won multiple national-level awards and is still being shown. Above all, they are wonderful people to work with!" – Andy Daubenspeck
Peter Liberti – 1959 Cadillac Coupe deVille
Peter is from upstate New York and has a strong affinity for his 1959 Cadillac Coupe deVille. Even over the phone, you can hear in his voice just how fond he is of this iconic American classic car. When the original 390 motor started to tire, he brought it to Cadillac Parts & Restoration (CPR). We rebuilt the motor and refreshed the engine compartment. When the work was completed, he had this to say:
"They did my complete engine restoration. Brought an exhausted engine back to life! Absolutely excellent work…no one can top these seasoned professionals who also live and breathe Cadillac!" – Peter Liberti
Darlene P. – 1960 Cadillac Coupe de Ville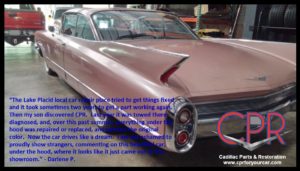 This 1960 Cadillac Coupe de Ville has been in the same family since new. Although it began it's life in California, it now resides in New York State. Although this classic didn't undergo full restoration it did receive a engine compartment restoration and a lot of much needed maintenance and repair. We also supplied and installed a difficult to find New old stock rear quarter fender molding. Darlene was pleased with our work and provided this testimonial:
"The Lake Placid local repair place tried to get things fixed and it took sometimes two years to get a part working again. Then my son discovered CPR. Last year it was towed there, diagnosed, and over this past summer everything under the hood was repaired or replaced. and painted the original color. Now the car drives like a dream. I am not ashamed to proudly show strangers, commenting on this beautiful car, under the hood where it looks like it just came out of the showroom."