Cadillac Parts & Restoration: The Cadillac Specialists
CPR's 1960 Cadillac Eldorado Biarritz Restoration Earns
Prestigious Senior Wreath Award at 2017 CLC Grand National
Northern Virginia was the setting for the Cadillac & LaSalle Club's 2017 Grand National Meet.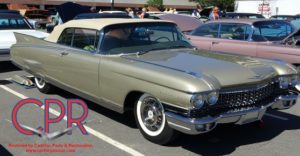 The annual gathering draws the world's finest restored Cadillacs and this year was no exception with CPR's Cadillac restoration projects earning prominent recognition.
As longtime CLC members and supporters Cadillac Parts & Restoration had a strong presence at this year's Grand National and were honored when our recently-completed 1960 Cadillac Eldorado Biarritz restoration earned the esteemed Senior Wreath award. This is the third restoration project we've completed for this particular customer and we're ecstatic that he'll be able to enjoy plenty of top-down cruising in this iconic vehicle.
Visit our Cadillac restoration project page to see more of our past projects.
CPR Takes Home Top Awards at
2016 Cadillac & LaSalle Club Grand National Meet
In Las Vegas on Saturday, April 16th, two completed CPR classic Cadillac restoration projects impressed the tough judging teams enough to be awarded top awards at the CLC's Grand National Meet.
Our 1958 Cadillac Eldorado Seville won First Place and the prestigious Senior Wreath award. Also taking home a First Place trophy was a 1961 Cadillac Series 62 convertible that we recently restored for the President of General Motors.
Cadillac Parts & Restoration Featured in CLC's Self-Starter
Magazine

Great read – article about the restoration we performed for the General Motors President on this 1961 Cadillac Series 62 convertible. Read the story.
CPR-Owned and Restored 1958 Cadillac Eldorado Seville Named
"Best of Show" at 2015 CLC Grand National Meet in Milwaukee, WI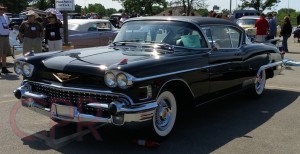 Big News! After the meticulous judging was over at the Cadillac & LaSalle Club's 2015 Grand National meet, the 1958 Cadillac Eldorado Seville owned and restored by Cadillac Parts & Restoration was awarded Best of Show (post-war) and First Place – Senior.
CPR has a long tradition of success at the Grand National meets and last year at Lake George, the three of our restorations were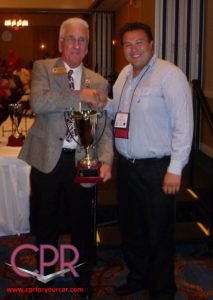 entered for judging and all three took home a first-place award in their respective class. This year's Best in Show award is as good as it gets considering the competition includes the very finest classic Cadillacs in the nation. See pics below. Read/see more about this award-winning 1958 Cadillac Eldorado restoration.
Dating back to our days as FEN Enterprises, we've been members and supporters of the Cadillac & LaSalle Club and its affiliated chapters and regions. If you see us at a Grand National meet, or any other event, be sure to say hello.

Meet Elsa Mauer Nicodemus – The "Cadillac Queen"
Elsa Mauer Nicodemus, the "Cadillac Queen" in the 1955 Cadillac Eldorado that was restored by her team at FEN Enterprises. This car was driven by Mick Jagger as he chauffeured the rest of the Rolling Stones across a closed Brooklyn Bridge to kick off their "Bridges to Babylon" world tour.
Leaders in the Cadillac Restoration Community
Welcome to Cadillac Parts & Restoration (CPR), where we put our expertise and experience to work for you. Whether you are doing your own work and need parts or you want a top-flight restoration job done for you, we are here to help.
Our world-renowned restoration shop has completed work on the finest Cadillacs, winning first place A.A.C.A., Cadillac & LaSalle Club Grand National and Concours d'Elegance awards. We offer full and partial restoration work and can design a plan for your restoration that can be designed to fit your budget. Benefit from our specialized Cadillac restoration experience.
Take a look at our completed restoration of this iconic 1959 Cadillac Eldorado Biarritz from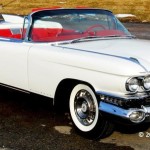 back in our days as FEN Enterprises. Body, paint, bright works/trim, interior and engine/trunk compartments are all on display.
General Motors only produced 1,320 examples of this wildly popular collector car and as its unique parts become harder to obtain, the difficulty to restore this car increases. We're quite proud to be able to preserve automotive history by restoring rare vehicles like this one.
"The Cadillac Specialists"
We've been in the business of restoring classic Cadillacs for over 28 years and our team of craftsmen is the best in the business. We've built our reputation on both our quality of work and our level of customer service which is reflected in our word of mouth and referral business.  Our success has translated into a great deal of press coverage from local, regional, national and international media outlets who cannot seem to resist to combination of our intriguing story and the stunning imagery offered through the photographs of our top-flight restorations.
You can view the quality of our work by taking a tour of our award winning restorations and show cars.
We are not affiliated with Cadillac or General Motors Corporation.