Cadillac Parts & Restoration: The Cadillac Specialists
First Place Winner at 2013 Cadillac & LaSalle Club Grand National-
Our Restoration of a 1959 Cadillac Coupe DeVille 
Congratulations to our client Joe Medinosky on his car winning First Place (Primary) in its class at the prestigious 2013 Cadillac & LaSalle Club Grand National. After inheriting this 1959 Cadillac Coupe DeVille from his father, Joe entrusted our team of Cadillac Specialists to restore his beloved classic.
His father took such great care of the vehicle that a full, frame-off restoration wasn't necessary. However, extensive work was performed on the engine and its compartment, suspension and brakes, interior, paint and trim and the results speak for themselves. Prior to this first place trophy, this car won its AACA Junior & Senior National Awards and numerous top prizes at numerous Concours d'Elegance events.
This restoration is another in a long line of CLC First Place winners and if you're looking to restore your Cadillac to "show" quality, or just want an attention-grabbing weekend driver, our team has the Cadillac specific knowledge, experience and attention to detail that you require. Read more about Joe's 1959 Cadillac Coupe DeVille.
Leaders in the Cadillac Restoration Community
Welcome to Cadillac Parts & Restoration (CPR), where we put our expertise and experience to work for you. Whether you are doing your own work and need parts or you want a top-flight restoration job done for you, we are here to help.
Our world-renowned restoration shop has completed work on the finest Cadillacs, winning first place A.A.C.A., Cadillac & LaSalle Club Grand National and Concours d'Elegance awards. We offer full and partial restoration work and can design a plan for your restoration that can be designed to fit your budget. Benefit from our specialized Cadillac restoration experience.
Take a look at our completed restoration of this iconic 1959 Cadillac Eldorado Biarritz from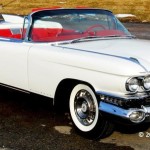 back in our days as FEN Enterprises. Body, paint, bright works/trim, interior and engine/trunk compartments are all on display.
General Motors only produced 1,320 examples of this wildly popular collector car and as its unique parts become harder to obtain, the difficulty to restore this car increases. We're quite proud to be able to preserve automotive history by restoring rare vehicles like this one.
"The Cadillac Specialists"
We've been in the business of restoring classic Cadillacs for over 28 years and our team of craftsmen is the best in the business. We've built our reputation on both our quality of work and our level of customer service which is reflected in our word of mouth and referral business.  Our success has translated into a great deal of press coverage from local, regional, national and international media outlets who cannot seem to resist to combination of our intriguing story and the stunning imagery offered through the photographs of our top-flight restorations.
You can view the quality of our work by taking a tour of our award winning show cars.
---
Featured Cadillac Restoration Parts
In addition to our restoration services, we offer a wide variety of classic Cadillac parts. NOS, used and reproduction, give us a call for the parts needed to complete your project. Many are exclusively reproduced and made in the USA by Cadillac Parts & Restoration (CPR). Click the thumbnail for full-size photos. More about our Cadillac restoration parts supply. View our available Cadillac NOS parts.
We are not affiliated with Cadillac or General Motors Corporation.